Posted on Monday Mar 20th at 8:00pm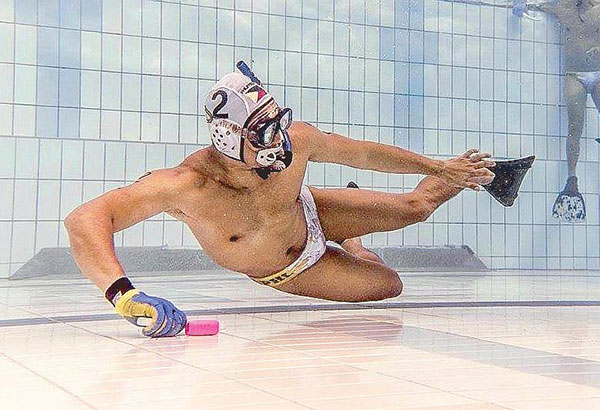 It's so heartwarming when your article gets so much attention, and that's exactly what happened when I wrote about our National Underwater Hockey squad.
I was swamped with questions, inquiries, and comments about them, that I just had to revisit the team, and this time focus on the men's squad, who are just as successful as their female counterparts.  This is a sport that we should promote because it's obviously  one where we can excel internationally, and bring more attention and glory to the Philippines.
Jonathan "Jay" Bejar is another one of our heroes, an athlete who strives to bring recognition to the country in the world of sports. He, like most Filipinos, played basketball (though he also dabbled in table tennis), but found his calling in the pool.
He started in underwater hockey at an advanced age of 27. After being introduced to water hockey by a friend in a mountaineering group, he joined basic classes, then became a member of a local club, and the rest, as they say, is history.
PHILIPPINE STAR: What's a typical day for you, training-wise?
JAY BEJAR: A typical day would be 15 minutes of above-water warmup, 15 minutes of in-water exercises, 30 minutes of underwater skill drills, and one hour and a half of game time. Frequency would be at least twice a week.
How's the experience when you represent the country?
Amazing and really fun! You get to meet and play with great international players, travel and learn a lot more about how to improve on the sport. It's a great honor and privilege to play for the Philippines.
What have you achieved in the sport?
Numerous championship titles in competitions in Asia, men's and mixed divisions since 2008. Captain of the World's Men's Philippine Team in 2016, captain of the Asian Underwater Hockey Championships Men's Philippine Team in 2016, two-time captain of Cebu Mixed Division Team in Philippine National Games, and the various championship titles in local competitions.
Is it a bit frustrating that your sport doesn't get the support and coverage it deserves, given all the wins you've had?
In my opinion, given that underwater hockey is still a very small sport here in the Philippines, I'm already grateful and happy for all the support and coverages we have so far already received from the government, media, and sponsors. Not frustrated at all but more support and coverage are always welcome!
What are the events you're lined up to compete in this year?
Major ones are the Manila invitationals 2017 this  March in Manila and Asian Underwater Hockey Championships 2017 in China come September.
Would you encourage young kids to choose underwater hockey as their sport?
A resounding "Of course!" First, it's really fun! Think basketball or football but played underwater. It's a sport that is easy to learn but will challenge and push you further to master. It's really very dynamic as a water sport that teaches teamwork at its core. It will definitely engage you physically and mentally.
 * * *
Follow me on Twitter and Instagram @anthonysuntay, and like my Facebook page: Anthony Suntay