Posted on Sunday Jul 16th at 8:00pm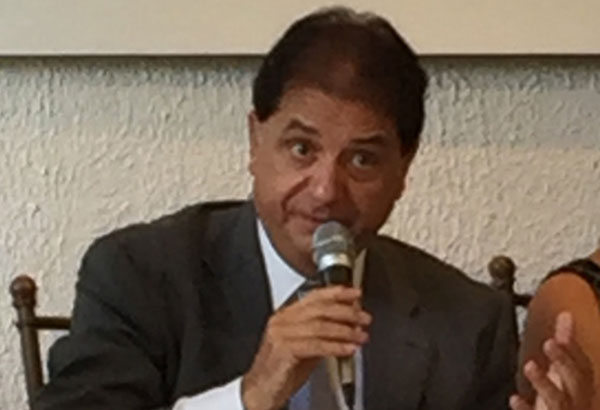 You say you can't hop on a flight to the City of Canals to attend the oldest, most prestigious film festival in the world?
Well, guess what? Lucky for Filipinos, the Venice Film Festival is actually coming to Manila this July, thanks to the efforts of the Societa' Dante Alighieri Comitato di Manila, the Italian Chamber of Commerce in the Philippines and the Film Development Council of the Philippines.
The festival, to be held in the ASEAN region for the first time, will be staged — appropriately enough — at the Venice Grand Canal Mall at McKinley Hill, Taguig, from July 26-31. Tickets will be free for most showings (a very reasonable P50 charge for others) with screenings of 11 films featured at the 2016 Venice Film Festival, including three Filipino films (Thy Womb, Ang Babaeng Humayo and Jay).
A media lunch for the event was held at the stylish residence of Italian Ambassador to Manila Massimo Roscigno, attended by his equally stylish wife, Madame Agnes Roscigno. The Italian ambassador highlighted the uniqueness of actually screening the festival here, noting it's been sanctioned by the Mostra Internazionale D'Arte Cinematografica (a first), and therefore it's technically part of the Venice Biennale: "Make no mistake, my friends, this is the real thing!" He noted it's also in line with the Philippines' 2015 return to the Biennale after a 50-year absence. "We consider this presence at the Biennale as very important, and in a way we consider this our way of thanking the Philippines for coming back to the Biennale."
In addition to classic Italian cinema such as Luigi Zampa's 1953 crime drama Trial to the City and Dino Risi's 1974 comedy Profumo Di Donna (Scent of a Woman), the local Venice Film Fest will feature 2016 entries including drama Questi Giorni (These Days), comedy Orecchie (Ears), Kim Rossi Stuart's profile Tommaso, road trip drama L'Estate Addosso (Worn Summer), horror Liberami (Free Me) and comedy Piuma. Plus, three Filipino films that screened at Venice are included: Brillante Mendoza's Thy Womb, Francis Xavier Pasion's Jay, and Lav Diaz's Ang Babaeng Humayo. (Diaz won the Golden Lion award in 2016.)
Founded in 1932, the Venice Film Festival — one of the "big three" fests along with Cannes and the Berlin Film Festival — has a colorful history. It's considered a cineastes' festival, with an unspoken Venice tradition that each winner/nominee must unleash at least one anti-Hollywood joke during the festival. It was founded by budding dictator Benito Mussolini, with winners presented with the Mussolini Cup for a number of years; then, during WW2, it was hijacked by the Mussolini-Hitler axis, screening only Berlin-approved propaganda films (the Venice organizers tend to dismiss those war years). And it's the one of the first film fests to introduce an LGBT category — the Blue Lion award — in 2007.
What became clear at the presscon was that Italians consider Filipinos to be as serious about films and filmmaking as they themselves are. After all, Venice is where directors like Brillante Mendoza and Lav Diaz made their international splash. Also on hand to discuss the launch were National Youth Commission chair Aiza Seguerra, Film Development Council of the Philippines chair and CEO Mary Liza Dino, Italian Chamber of Commerce president Sergio Boero and Societa' Dante Alighieri Comitato di Manila Sergio Boero president Jose Eduardo Delgado.
Dino noted that the effort to bring the festival here was "born out of frustration." She had sought a Manila screening of Lav Diaz's The Woman Who Left after it won the Golden Lion Award last year in Venice. Not surprisingly, no local cinemas were showing it. Despite being celebrated in foreign lands and foreign fests, Filipino films struggle to find a market in their own country. "That's how it started: I asked the Italian Ambassador if it was possible to bring the Venice Film Fest here." That set the ball rolling, an effort that required approval by the Fondazione la Biennale di Venezia itself. "More than bringing the classic prestige of the festival closer to home, it brings together two cinematic cultures built on a long-standing relationship, and the organizers chose to partner with the Philippines to make this the first ASEAN location for the festival," Dino says, noting it's the right time for Philippine films to shine. "We in Philippine cinema are now making creative waves — not just ripples — on the international stage."
Boero promised that, with enough support and patronage, this won't be a one-off, but will lead to a return of Venice Film Fest here in future. "There's a market for these kind of movies," he notes. "People want something different. It doesn't all have to be Spider-Man and Batman."
So expect a little touch of Venice culture to touch down on our shores at the end of July. Who can resist its charm?
As the Italians would say, "Prego!" (You're welcome.)
* * *
Join the Venice Film Festival in Manila as it opens at Venice Cineplex, Venice Grand Canal Mall, McKinley Hill, Taguig from July 26-31. Screenings are 12 p.m. and 1 p.m. Tickets are free (first-come, first served), with some screenings priced at P50. There will also be a photo exhibit from the Venice Biennale's Historical Archive of Contemporary Arts. Visit Societa Dante Alighieri Manila on Facebook (www.facebook.com/pgp/SDA.Manila /events) for more information.