Posted on Friday Feb 17th at 9:00pm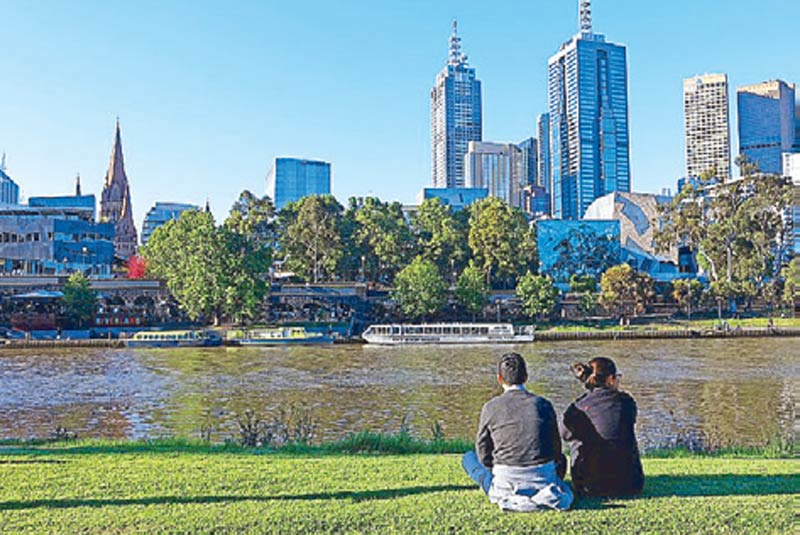 Being a tennis buff, I mark the start of each year by the first grand slam event, the Australian Open. This is held in the "world's most livable city," Melbourne. I watched this year's games on TV this January with great memories of that metropolis, which I was lucky to visit late last year.
Australia is known for its wide-open spaces, its tourist destinations (I took my first scuba dive at the Great Barrier Reef ages ago), and its vibrant cities. Progressive cities and their economies today are fueled by creative industries.
In 2015, the University of Toronto's Martin Prosperity Institute ranked Australia as number one on the Global Creative Index. Creative industries down under contribute over $90 billion to their robust economy annually. There are over 600,000 people working in these industries, most of them in the key cities of Melbourne, Sydney, Brisbane, Perth and Adelaide.
I was in marvelous Melbourne for close to a week with a number of journalists from Southeast Asia, India and Germany. This was upon the invitation of the Australian government. The visit allowed us to glimpse the range of these industries while also imbibing Australian culture. Our tour took us to destinations related to design excellence, education in the creative industries, cultural centers and museums, along with landmark districts and sites in Melbourne and the state of Victoria.
We stayed in the center of the city, beside the Yarra River, walking or taking short rides to most of these destinations. The city has a great tram (tranvia) system, an extensive bike lane network, and extremely walkable streets.
The tour we were on would regularly take us back to the MPavilion, an annual architectural installation in the Queen Victoria Gardens, just opposite the Rod Laver Arena, venue of the Australian Open. The gardens are part of a larger green oasis called the Domain Parklands. The Parklands are about twice the size of Rizal Park, and is only one of many parks in the city providing over 480 hectares of green open spaces. Proximity to parks is an attribute of all Australian cities, reflecting their love of nature and recreation.
The MPavilion is a hub of an annual four-month program of events, talks, performances and installations in the Australian summer. The pavilion itself is an icon of this program, commissioned yearly since 2014 by the Naomi Milgrom Foundation, with support from City of Melbourne and the Victorian State Government. The foundation "seeks to initiate and support great public design and architecture projects… that explore design's close interconnection with contemporary culture."
We met with Naomi Milgrom, head of three of Australia's largest fashion chains and an advocate of architecture, art, music and landscape design (her office building is a green, garden-filled complex).
Award-winning Indian architect Bijoy Jain designed the current pavilion. British architect Amanda Levete, a Stirling Prize winner, and leading Australian modernist Sean Godsell designed the previous pavilions. Each pavilion is transferred to a permanent location in the city after the program. Levete's pavilion is now found in the Melbourne's Docklands, an urban-renewal district growing as an extension of the original CBD. Godsell's minimalist metal pavilion is now at Melbourne's Hellenic Museum in the historic district of the city.
The creative director of MPavilion, Robert Buckingham, led our tour. On separate occasions we viewed new furniture design on display by Tom Fereday Design, a fashion show by students of RMIT, and an engrossing talk by Chris Sanderson, advisor to the City of London, on creative cities, exploring how digital tools such as Pokemon Go increasingly rewrite our understanding of the city.
Design permeates Australian culture and contemporary life, so it's no surprise that tertiary institutions abound, offering design programs in architecture, planning, landscape architecture, urban design, graphic arts, industrial and fashion design. In Melbourne the major universities and schools include the Royal Melbourne Institute of Technology. We visited their iconic RMIT Design Hub (designed by Sean Godsell) and their School of Fashion and Textiles in the Melbourne suburb of Brunswick.
We also stopped by the Monash Art Design and Architecture (MADA) in a southern district of the metropolis. All these schools are surrounded by affordable housing or connected directly by trams and bike lanes, making studying in Melbourne a great experience, and quite stress-free commute-wise compared to Metro Manila. The student population also includes many from Asian countries.
I also had the opportunity to meet with local architects from large practices like ARM Architecture, a 30-year-old firm with numerous award-winning architecture projects under its belt. What interested me most about their work was that it included the Perth Arena in particular — the site of Australian tennis' other major event, and a favorite of mine to watch: the Hopman Cup.
Aside from the MPavilion's festival, Melbourne also has another major design-centered event coming. This is the National Gallery Victoria's Design Triennial 2017. The Design Triennial will focus on contemporary global art design and architecture. It is distinctive from other world festivals in that it will "provide a multidisciplinary focus on art, design and architecture, as well as fashion, film, performance and a variety of cultural practices."
We visited the National Gallery, which was walking distance from our hotel. The gallery was founded in 1861 and today hosts the work of international and local artists, and has a significantly large and diverse collection with over 70,000 items in its galleries and vaults.
* * *
More on Melbourne, its urban culture and creative design next week in part two of this feature.
Feedback is welcome. Please email the writer at paulo.alcazaren@gmail.com.