Posted on Monday Mar 20th at 8:00pm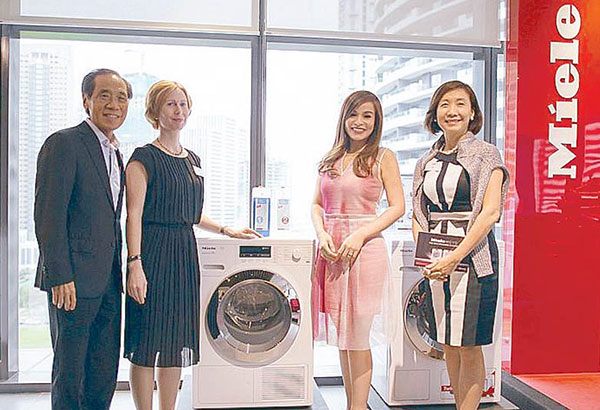 Not all your delicates need to be handwashed.
This we found out over lunch from celebrity mom, blogger and entrepreneur Grace Barbers Baja who learned the lesson the hard way.
"My kids' and husband's clothes all go to the washer. But for my clothes, I make the house-help handwash them. Until she came up to me one day holding my favorite wool scarf and cotton tee with felting (himulmol)," related Grace. "You see, when you handwash clothes, you tend to over wring it which damages and stretches the fabric. Hence, the himulmol. The kind of detergent one uses is also important."
Grace adds that most things labeled as "delicate," "dry clean" or "hand-wash" can be safely put in a washing machine — as long as you're careful and you're using a smart washer.
"In our home, we trust only Miele," enthuses Grace who's been a Miele user for the past 11 years. "With that alone, I could already vouch for the brand's durability, efficiency, and longevity."
Miele, a premium kitchen and home appliances brand from Germany, recently unveiled its latest range of laundry appliances — the W1 washing machines and T1 tumble dryers — set to revolutionize laundry care as we know it. The event was held at the Focus Global Showroom in Bonifacio Global City, Taguig.
"With the new W1 generation of washing machines, laundry is washed cleaner, more conveniently and textile-specific than ever before. I could ask our househelp to wash my silk dresses, wool coats, even down jackets anytime, knowing that they are well taken care off," adds Grace, brand ambassador of Miele W1T1. "Miele is a premium brand, but it's worth the investment."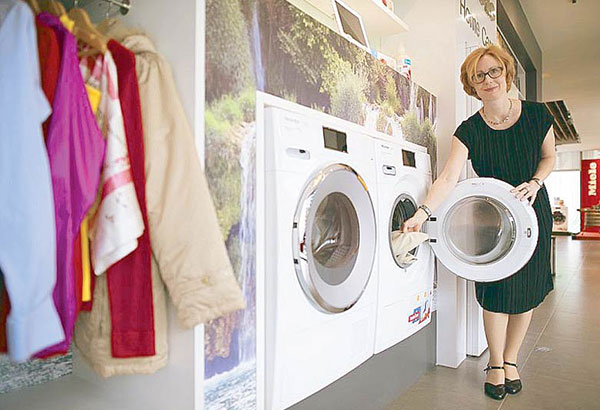 Miele export sales manager for Southeast Asia Frauke Nitz demonstrates the outstanding features of Miele T1 tumble dryer.
The New Standard Of Clean
Three of the world's firsts in laundry innovation are responsible for this revolutionary and new standard of clean: the TwinDos, CapDosing and the PowerWash System.
TwinDos is the world's first built-in dosing system of detergents for both colored and white gaments. No other liquid detergent system washes whites as well as colored garments as thoroughly as this two-phase system.
TwinDos operates in two stages: The first detergent (Miele UltraPhase 1) removes soiling caused by grease before the second detergent (Miele UltraPhase 2), which has a higher cleaning power, sets to work on stubborn stains such as those caused by red wine and coffee. Depending on the type of fabric and the amount of laod size that you put in the washing machine, both detergents are automatically dispensed at precisely the right time and at the right ratio.
"A lot of people think that if you put more detergent in the washer, your clothes will be 10 times cleaner. That's not true at all. Overdosing of detergent is actually detrimental to your clothes. With the Miele W1 washer, there's no fear of overdosing or underdosing," explains Grace.
For delicate fabrics, there's CapDosing, which protects them against shrinkage and felting. With CapDos, breathable sportswear are cleaned and unpleasant odors are neutralized.
And then there's the PowerWash System. With PowerWash, the detergent penerates the load deeper and faster, which improves the cleaning performance by at least 10 percent.
The new generation Miele W1 washing machine is complemented by the T1 tumble dryer, which ensures precise drying through Miele's tried-and-tested PerfectDry system.
T1 tumble dryer also boasts the SteamFinish feature that reduces the need for ironing.
"Miele has invested more than 100 million euros in the making of the new generation Miele laundry appliances. All parts of the washing machines and tumble dryers have been redesigned, tried and tested over and over again to ensure that they are durable enough to last 20 years," notes Frauke Nitz, Miele export sales manager for Southeast Asia, who flew all the way from Germany just for the launch.
Forever Better
Since its founding in 1899, Miele has always adhered to the company philosophy of "immer besser," which means "forever better."
"It's a promise that is reflected in the legendary quality and longevity of the company's products," says Frauke. "Miele puts a premium on ensuring that appliances make everyday work more convenient."
And the new W1T1 leaves nothing to be desired.
* * *
In the Philippines, Miele Domestic Appliances are exclusively distributed by Focus Global Inc. Showrooms are located at the ground floor of The Residences at Greenbelt, San Lorenzo Tower, Esperanza St., Makati City; Twenty-four Seven McKinley, 24th St. corner 7th Ave., McKinley Parkway, Bonifacio Global City; Pioneer corner Reliance Sts., Mandaluyong City; and the Design Center Cebu, P. Remedios corner A.S. Fortuna Sts., Mandaue City, Cebu.
For information, visit www.focusglobalinc.com.