Posted on Sunday Jul 16th at 8:00pm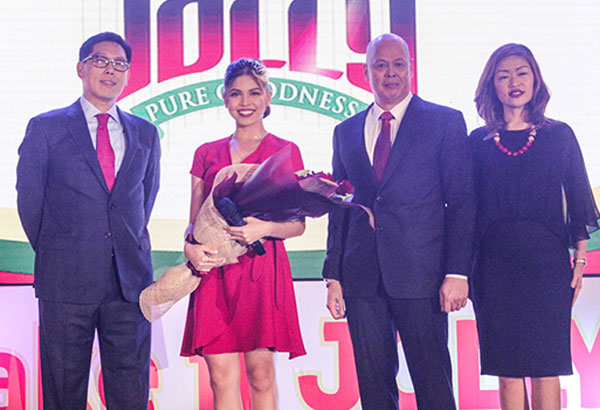 Unknown to most people, mushrooms are one of the most popular food commodities in Philippine home kitchens and restaurants. And the country's No. 1 brand after 20 years of quiet yet phenomenal growth is the Jolly brand created by Fly Ace Corporation, a food trading firm established by the Cochanco family in Binondo, Manila.
Fly Ace Corp. and Jolly celebrated their 20th anniversary with a dinner reception at Solaire Resort by launching their new celebrity endorser, GMA-7 actress Maine "Yaya Dub" Mendoza.
What are the success strategies of this business, which I classify as one of the Philippines' "hidden champions"?
Adaptability — Defying the global trend of most family businesses, which usually decline by the third generation, the Cochanco family, which is currently in its third generation, is now at its prime in terms of business success and size, led by president Lucio "Jun" Cochanco Jr., vice president for sales and marketing Larry Cochanco, vice president for logistics Elliz Cochanco and vice president for support services Ellen Cochanco, plus professional executives led by general manager Ramon Daez and AVP marketing Abigail N. Reyes.
Their immigrant grandfather, who had roots in Fujian, south China, used to own a rice mill in Cananatuan City, Nueva Ecija. In 1972, the second-generation Lucio Cochanco and his wife Erlinda moved to Binondo, Manila, to go into rice trading. However, since rice is considered a "political commodity" and was subject to price controls, as well as other stringent regulations by the government, the Cochancos adapted quickly by looking for other food items to trade in the 1980s, including imported foodstuffs. 
Brand building — Not content with just growing their business trading commodities, in the 1990s the Cochanco family incorporated a new firm called Fly Ace Corp. and in 1997 created their own homegrown brand Jolly for canned mushrooms and canned corn, thus differentiating themselves and emphasizing their quality image.
With their market leadership, Fly Ace Corp. created other food brands like Good Life noodles, which they celebrated last year with a unique "Pancit Festival" at the Pandesal Forum in Quezon City, with presidential legal adviser Sal Panelo and celebrity chef Claude Tayag. Fly Ace has also brought in reputable imported brands.
Efficiency — In a trading business like Fly Ace Corp., one of their competitive advantages is operational efficiency in logistics, from the warehousing, importation, processing, and packaging to distribution to retail partners nationwide.
Affordable pricing — Fly Ace Corp. assistant Abigail Reyes said that their firm combines good quality with the traditional Chinese business strategy of maintaining affordable pricing.
Availability through many channels — The Cochanco family sells their growing portfolio of local- and foreign-branded food and beverage products nationwide through a vast network of retailers, making their products readily available to all consumers.
Strong partnerships — The Cochanco family has forged numerous good, mutually beneficial partnerships with many local and foreign suppliers, also with mall chains and retailers nationwide. During their July 11 anniversary celebration, retailers big and small, including shopping mall bosses like Robina Gokongwei-Pe of Robinsons and various branches of the Sy-Gaisano clan from the Visayas to Mindanao, were in attendance.
Hard work — Executives and staff of Fly Ace Corp. follow the examples set by the owners, the members of the Cochanco family, in their hard work. Jun Cochanco said they're continuing the work ethic of their parents and grandparents.
Integrity — One intangible asset that the Cochanco family has consciously maintained is their integrity, which has been an important competitive advantage since their earliest years as rice millers and rice traders. For the old-school entrepreneurs of the ethnic Chinese minority, integrity as manifested via keeping one's word of honor and honesty is traditionally more highly prized than even real estate assets, inventory or piles of cash in the bank. 
With the new anti-trust law, is a level playing field possible?
For decades, a lot of big business entities in the Philippines have grown immensely thanks to the sheer lack of anti-trust laws, which should protect smaller or newer players. In not a few industries in our society, there is a lack of a genuine level playing field to encourage dynamic, fair and free competition to benefit us consumers and the overall national economy. 
Aug. 8 is the end of the two-year "transition period" for businesses big or small in the Philippines to adjust and start to comply with all provisions of the Philippine Competition Act, which the Philippine Competition Commission (PCC) will start full implementing. This was announced at a joint press conference in the July 14 Pandesal Forum by Senator Cynthia Villar, PCC commissioner Stella Luz Quimbo and commissioner Johannes Benjamin Bernabe.
Senator Villar appealed to the PCC to assist garlic farmers and local consumers by stopping and going after unscrupulous importers and traders, who seem to be acting as a cartel with "too high prices of garlic." Villar said the Senate will send a formal letter on the garlic price problem to the PCC, and both Quimbo and Bernabe said they will act on this.
The newly established PCC clarified that, contrary to many misconceptions, they're not in charge of regulating sports competitions or beauty pageants. They also clarified that they're not the competitiveness body that seeks to enhance the Philippine economy's global competitiveness. Quimbo and Bernabe explained that PCC is an independent, quasi-judicial body similar to the Comelec, and that their primary jurisdictions are over issues concerning business competition.
The PCC said their mandates include stopping any unfair business practices by cartels, oligopolies, monopolies or dominant business firms such as price fixing, rigging of bids, limitations of production to manipulate prices, etc. They also announced that corporate mergers and acquisitions worth P1 billion and above need to be reviewed by the PCC in order to avoid the restricting or lessening of competition in a particular industry.
Can the young and intellectually gifted commissioners of the PCC such as former UP School of Economics department chairman and summa cum laude graduate Dr. Stella Luz Quimbo and UP economics cum laude graduate Atty. Johannes Bernabe and their other colleagues reform Philippine business across various industries to promote a level playing field and thus genuine economic democracy for the Philippines?
* * *
Thanks for your feedback! Email willsoonflourish@gmail.com or wilsonleeflores@yahoo.com. Follow @wilsonleeflores on Instagram, Twitter, Facebook and read my new blog wilsonleeflores.com.