Posted on Sunday Jul 16th at 8:00pm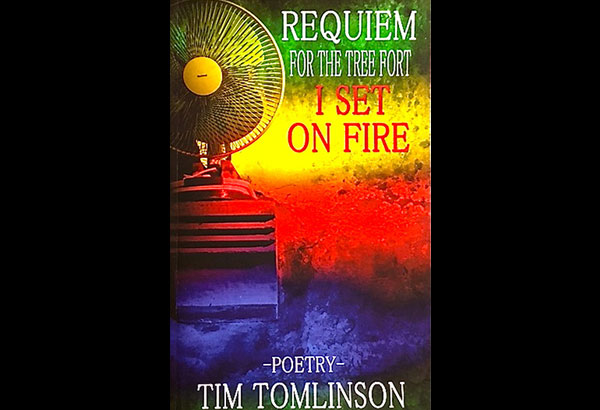 I can't recall ever having reviewed a poetry book by a foreign author published abroad. But there's a first time for everything, thus this exception for Tim Tomlinson's Requiem for the Tree Fort I Set on Fire (Winter Goose).
This buddy of ours might as well be Filipino, not just because he's married to one, his fellow poet Deedle. It's been his constant positive interaction with many other Filipino poets and writers that gives him cachet. He has conducted stimulating workshops in Manila, Baguio, Dumaguete, Cebu and Davao, engaging with students of UST, AdMU, Silliman University, UP in Mindanao and UP Visayas, among others.
All the times he's spent here have also resulted in his works being published in UST's Tomas, the Silliman Journal, the Anvil Press anthology Fast Food Fiction, and Esquire magazine. A couple of years ago, he authored the chapbook Yolanda: An Oral History in Verse (Finishing Line Press).
The peripatetic Tomlinson has also held word sessions in Bangkok and Shanghai, specializing in craft workshops concerned with form in fiction, memoir, and poetry. These engagements have been the offshoot of co-founding the New York Writers Workshop, which he currently serves as president, and co-authoring its popular text The Portable MFA in Creative Writing. He also teaches in the Global Liberal Studies Program at New York University.
Not bad for a high-school dropout at 16 who chose to join labor crews and was otherwise educated by jukeboxes and fellow delinquents. Obviously, he caught himself in time from all the purposeful aimlessness, as he eventually managed to graduate from Columbia University's School of the Arts.
All those early years of memory accretion serve as fountainhead, torchlight and tripwire for most of the 71 poems in this collection. Arrayed are mother, father, grandmother, grandfather, older brother, neighborhoods, pilgrim points, bars, songs, hallucinogens, movies, bordellos, oceans and old lovers — as part of a larger requiem for the bittersweet morsels of the past — requiem for the woods and towns of Eastern Long Island, the bedrooms, basements and attics of home, litanies of boyhood and random vagaries of environment, from Viet vets to AIDS victims, schools with flagpoles, and the "childhoods they wrecked, the minds they destroyed…" 
A section features a series of 11 poems with the common main title of "Stool Samples: Vieux Carré:…" — suggesting a historic old district of speakeasies, but with each followed by place-paean significators from Australia to Lebanon, or meal items from breakfast to old chicklen. A panoply of characters fleshes up the odd features of genius loci, with line endings as charactertistic off-hand throwaways, as in "… Horse Cock": "A black guy comes in. The boys say, 'Yo Don,/ look—a black guy.' 'Hey,' Don says, 'black guy this.'"
Particularly immersive in imagery is the taut, straight narrative of "Eight Days a Week":
"I don't know it yet, but it's the last day/ I'll ever follow my big brother, Wally,/ off Knickerbocker Avenue, up Bleecker/toward our grandma's apartment, the Myrtle/ Avenue El rumbling behind us. The small/ teeth of a slanted comb poke from Wally's/ back pocket, his Cuban heels clack/ on the sidewalk, his iridescent slacks/ shine like gasoline on a puddle./ He's a ten-year-old Frankie Valli./ I'm eight, and one thing I know: big girls might/ not cry, but big brothers do. Wally acts/ tough, but at the dentist, I hear him howl/ so loud I drop my Boy's Life. And when Dad/ raises his voice, Wally changes his pants./…
The long, single-stanza poem continues with the younger brother's hero worship. "… All I ever want/ is to follow Wally, make him see that/ I can hang with the big kids, make him laugh,/ even act as tough. and dumb as his friends./… when a sound/ I'd never heard before fades in from/ the radio of a Ford Skyliner idling/… When the Skyliner pulls/ away, Wally says, Was that the Beatles/ shit? But I barely hear him now, and it's/ like that for several years, until little/ by little, I don't hear him at all."
i know that at least one poem in this collection was written in the Philippines, after a scuba experience off Dumaguete. Titled "Night Dive," it appears as quatrains, with the lines enjoying progressive indentions that lend the graphic look of a cascading embrace of liquid.
"Once on a moonless night/ I lost my companions./ Their beams were bright/ but I'd edged over// an outcropping into/ darkness and touched down softly/ on a rubble ledge/ where the wall pulsed// with half-hidden forms, eyes/ on the ends of stalks,/ spiny feelers testing the current,/ feather dusters// vanishing/ in a blink,/ spaghetti worms retracting./ So sadly familiar—// things I desire withdrawing,/ their forms/ disappearing/ the instant// I extend a hand./ The reef folding into itself/ like a fist. Then,/ from the stacks of plate coral,// the arm of an octopus slid,/ and another, two more,/ reaching/ for my fingertips,// my palm. The soft sack/ of the octopus followed,/ inching nearer,/ her tentacles// assessing/ the flesh of my wrist,/ my arm. My heart/ pounded. Turquoise pink// explosions rushed across/ the octopus's form. At my armpit,/ she tucked in,/ sliding her arms// around my neck/ and shoulder, her skin/ becoming/ the blue and yellow// of my dive skin./ She stayed with me/ such a short time,/ her eyes// those narrow slits,/ heavy with trust,/ and my breath/ so calm, so easy.// Above,/ my companions/ banged on their tanks./ summoning me to ascend.// How we worry when someone slides over/ a ledge. How urgently/ we admonish the lost ones/ to turn back."
Whether coddled by the fires of memory, or of late in the cooling cuddle of seawater, Tim Tomlinson's poetry glides easy, easily, along the most subtle of perilous edges.